Pete's Stout Beer Bite Candy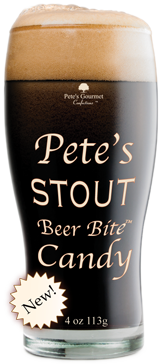 Our latest confection begins with a Hand-Crafted mixture of roasted barley, chocolate malt, roasted oats and crystal malt...then, our Master Brewer blends in Cascade and Nugget Hops.
Beer enthusiasts will enjoy its deep nutty flavor, chestnut-roasted hue and malty nougat goodness. Beer bites are an alcohol free beer based nougat brewed in small batches with hand-selected fresh ingredients and the time-honored tradition from Pete's Gourmet Confections.
If you would like to place a personal or gift order on our web store, Click Here.
For WHOLESALE information Click Here.